I am sorry to say that my sejour à Paris is drawing to a close… it hasn't hit me yet that I will soon be back in the land of all things supersized. Am I ready to go back? No… but I am looking forward to free food, good ole green backs, and my shower and toilet in the same room. However I must not think about all those things and live in the moment because for heavensakes I am in Paris! Bread, cheese, wine, bars, museums (for free!) are all at my disposal and have I capitalized on all Paris has to offer after 5 months of living here? Gosh no I haven't. There is a whole slew of things left to see, to do, to explore so right here, right now, I am going to make a list of all the ish I need to do between now and the END :(.
1. Visit Sacre Cœur… when walking home the other day from my internship, I saw it with my own eyes literally 10 minutes from my house here and I didn't even know it was there… so ashamed. lol.
2. Visit Saint de la Chapelle church: because it looks cooler and less touristy than Notre Dame
3. Museum de l'Orangerie: holds Monet's amazing Nympheas/ Waterlilies paintings in their original size 
Since we are on this Monet theme right now…
4. Museum Marmottan Monet: because there is more Monet here then any other Museums.
4. Giverny: where Monet lived and painted his most famous works
5. Museum Quai Branly: Just because it looks friggin awesome and it's right next to the Eiffel Tower.
6. Musée de l'Art Decoratif
7. Musée Gustave Moreau: I have no idea why I want to go here honestly but it looks cool!
8. Grand Palais: I have no idea what's in it but this picture was enough to make me want to go!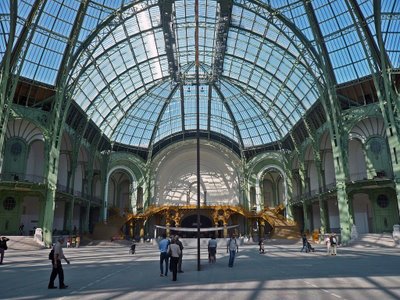 9. And right across the street from that is the Palais des Beaux Arts
10. Top of Tour Montparnasse:
11: Musée Bourdelle
12. Palais de Tokyo
13. Musée Guimet: largest collection of Asian art outside of Asia
14. Musée de la Mode et du Costume: because I don't think you can leave Paris without going to at least one fashion museum.
15. Buttes Chaumont: an amazing park with amazing views:
Phew. my computer is dying after all this work haha. I think I better stop here but I can get this done! Till next time.